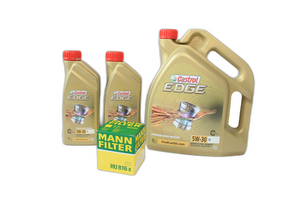 Please make sure to include your VIN number in the order so we can deliver the correct filters for your model of car.
This kit will contain everything that is needed for a basic oil change on your F-series BMW with the N55 engine.

For an oil change you need 6.5 liters of oil, we'll provide you with 7 liters. This can either be in a bottle of 5 liter and 2 bottles of 1 liters or be 7 bottles of 1 liter, it depends on our current stock.

Also coming in this kit is a oil filter from Mann that comes with all the gaskets that you'll need. 

Kit contents:
7 liters of Castrol Edge M with viscosity of choice

1x Mann oil filter with all gaskets