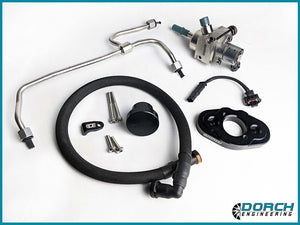 Software changes are required to run this pump.
The table below serves as a reference for maximum fuel flow in cubic centimeters per camshaft revolution for various B58 fuel pump options. These calculations are based on the B58 cam lobe. Each engine will have varying fuel flow capacities depending on the lift and number of lobes on the camshaft.
| Pump Model | Fuel Flow (cc/rev) |
| --- | --- |
| HDP5 Evo (Stock B58) | .954 |
| HDP6 (Stock B58TU) | 1.178 |
| Dorch Engineering Stage 1 | 1.299 |
| Dorch Engineering Stage 2 | 1.558 |
Kit Contents:
HPFP w/ Hardware
High Pressure Line
Quick Connect Low Pressure Line
Low Pressure Line Bracket
Plug-n-Play Adapter Harness

Kit Fitment:
F20 – 140i, 140xi
F21 – 140i, 140xi
F22 – 240i, 240xi
F30 – 340i, 340xi
F31 – 340i, 340xi
F32 – 440i, 440xi
NOTE: If you have a B58 equipped vehicle that is not listed, please contact info@dorchengineering.com for fitment information.